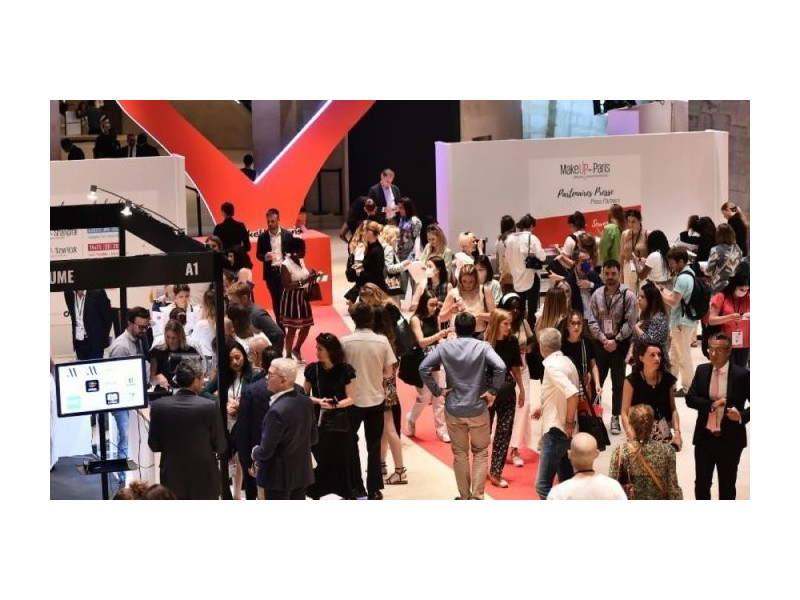 makeup in Paris 2022
The new MakeUp in Paris IT Awards competition rewards four winners among the skincare and make-up innovations presented by exhibitors at the show.
The competition is open free of charge to all exhibitors, who can submit up to three skincare or makeup innovations. The "IT Awards" are awarded by a two-round vote, in which all the members of the Jury participate [1].
This year, 22 new skincare and make-up products and 3 favorites were selected this year for the MakeUp in Paris Innovation & Trends (IT) Awards, among more than 80 products entered in the competition in four categories: Accessories, Formulation, Full Service and Packaging.
CATEGORY ACCESSORIES
Winner
- The Ocean Brush, by Raphaël Makeup Brushes. A brush whose handle is made of 50% shell and 50% bioplastic from castor oil. The head is made with 65% recycled fiber from PET bottle waste and 35% raw fiber.
Finalists
- Mix&Match Ecobrushes, by Taiki Cosmetics Europe. A minimalist and easy-to-use set of 10, 15, 20 brushes with only three wooden handles and interchangeable head pieces that just click and unclip.
- Dual Density Blending Sponge, by Taiki Cosmetics Europe. A dual-density sponge designed to be a complete make-up tool for the complexion: the low-density side provides great comfort, and the denser side allows precise application of different textures (fluid, compact powder).
- Innovative Brushes Made With "Own Client's Waste", by Leonard Brushes. Handle made with a new material developed by Zone K, made up of a minimum of 70% recycled material from industrial cosmetic waste from customers or Bullier SAS brands.
FORMULATION CATEGORY
Winner
- Ageless Serum by Pharma Cos Srl. A solid texture that glides on the skin and transforms into a nourishing serum. An easy-to-use and easy-to-carry skincare product, it is designed to promote healthy aging of the skin, improving its appearance.
Falling for something
- Teens Cosmos Watery Foam Foundation by Daito Kasei Europe. A bi-phase formulation that combines the properties of a foundation with a very natural finish, particularly suitable for young skin, and a moisturizing serum. It is easy to mix thanks to the use of pigments treated with silica (COSMOS certified) which allow a very good dispersibility in water. Without propellant gas, its aerial foam texture is obtained from surfactants of vegetable origin.
Finalists
- Sophisti-Mate, from Aircos, Anjac Group. Foundation powder without talc formulated mainly from rice used in the form of oil, powder and wax of
rice bran.
- Metal-ONE e/o by Trendcolor. A bold and shimmering effect obtained from a formula combining a new generation of polymers with an emollient from renewable plant sources.
- Vitality Co-Creation Changing Oil, by B. Kolormakeup & Skincare. A super-fluid oil formula designed to cover all the different stages of the beauty routine, transforming as needed into a cream or serum
- Waterdrop Dazzle Stick, by Gotha Cosmetics. This stick that refreshes the skin while illuminating it with a shimmering and reflective veil of colour. Its hydrogel-like texture is achieved through an innovative blend of crystals and special gelling agents. Its formula is enriched with a sugar complex identical to that of the skin, in order to better preserve it.
- Brightness Whipped Cream, by SICAF, Anjac Group. A 98% natural aerial texture that renews the sensory experience while providing a hybrid benefit: it gives radiance and comfort to the complexion and takes care of the skin by moisturizing and nourishing it.
- Crescendo Hydra-Activated Foundation, by Chromavis Fareva. A hybrid foundation whose hydro-activated formula releases a boost of benefits upon removal with hot water. This removal care property is based on the presence of micelles that trap the removed color and activate the moisturizing and antioxidant qualities of a sage concentrate.
"FULL-SERVICE" CATEGORY
Winner
- Flexxxy Palette, by Chromavis Fareva. A novel makeup concept, based on flexibility and water that combines extra-flexible packaging and a disc-shaped formula with a high degree of flexibility and resistance to deformation that makes it virtually inert to all stresses during use
Heart stroke
- Fullcycle Anti-Ox Booster, by OPAC. A 100% recycled emulsion, from the formulation matrix to the active ingredients, combined with an ecological packaging system. The matrix is ​​made up of raw materials that have a common aspect: they come from the transformation into functional cosmetic ingredients of essentially discarded food by-products.
Finalists
- Maori Gold Eyeliner & Kajal, by Faber-Castell Cosmetics. An ultra-long-lasting pencil formulated with ingredients